Westmoreland Moto Guzzi Clothing
On

April 4, 2014

·

In

Uncategorized
2014 Moto Guzzi Clothing
This  year ride your Goose wearing some great Westmoreland Moto Guzzi clothing.  We've teamed up with the graphic designers at Joy Complex to bring you some of the coolest and most customizable Moto Guzzi inspired gear ever.  All of our t-shirts, fleeces, and tank tops are completely awesome and all fully customizable.  Want a different color? Pick out of hundreds.  Want a v-neck?  Out of cotton or tri-blend.  However you want to wear you Guzzi pride you will be able to do it.
You can even add custom messages!  Are you going on a group ride  and want your Guzzisti pack to stand out? Get a shirt with your group's name on the back! (But if you do, send us a photo so we can put it on our Facebook page!)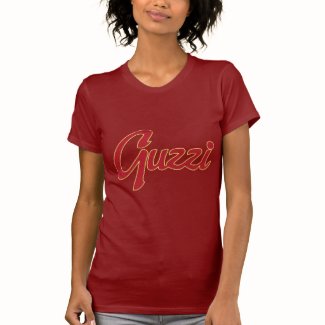 Guzzi Classic Stitch Script (Vintage Look) T-shirt
by
Westmoreland Moto Guzzi
Create your own one-of-a-kind
custom tee shirts
with Westmoreland Moto Guzzi.
We also have  wall posters, wrist watches, and coffee mugs that you can also get completely customized as well! We are coming up with new designs every month too!
Our newest design is the Moto Guzzi  850 T3 Black Tachometer  wall clock. This Moto Guzzi wall clock is inspired by the tachometer from a 1970's era Moto Guzzi 850 T3. Looks pretty cool and harkens back to a classic Moto Guzzi and would would look absolutely fantastic in your garage, workspace, or office.
Moto Guzzi Wall Clock – 850 T3 Black Tachometer
by
Westmoreland Moto Guzzi
View additional
Clocks
online at zazzle.com
Have an idea for a t-shirt or maybe an iPhone case? Let us know about it on our Facebook Page.  If your design idea is used you'll get one for free! And don't forget to send us a photo of you wearing onw of our shirts.  We'll definitely put it up on Facebook too!